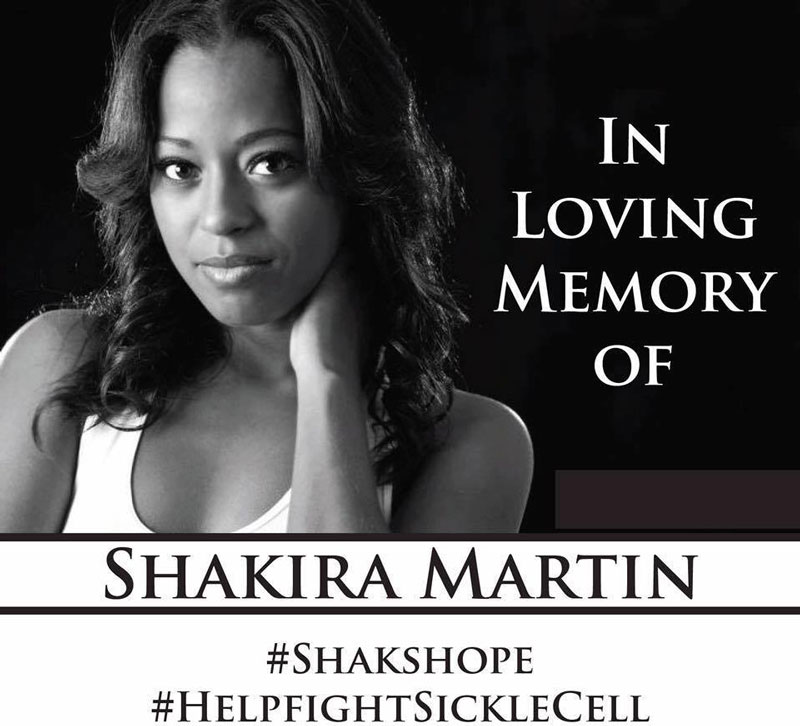 Shakira Aminah Martin was born on June 1, 1986 in Brooklyn, NY to Alphonso Martin and Andrea Hall. She was a joyful baby full of life, always greeting family and friends with her beautiful smile. Shakira, 'Shaks' to her inner circle, was a child of Sickle Cell Anemia. Her mother, who bares the Sickle Cell trait, was warned that Shaks would not live past the young age of 12 and was advised to end the pregnancy. She had a strong willed determined mother who believed where there is life there is hope and so began her journey of living a hope-filled life.
Shakira and her family moved to Broward County, Florida when she was 3. From that tender age she was an advocate for those suffering from the dreaded disease. Her journey began when she became a poster child for Sickle Cell at 7. However the advocacy was home grown. Andrea joined the Sickle Cell Foundation in 1989 and took the children to all the foundation's meetings and events. It was a family affair. This is where Shakira found her purpose. Her mission was to give hope to all suffering from the disease and to encourage everyone to live a full life while staying in the moment.
A graduate of Nova High School, Shakira Martin was crowned Miss Jamaica Universe 2011 on July 9, 2011 in Kingston, Jamaica. The former beauty queen realized her lifelong dream, even for only a short time, by living an exemplary life and showing her fellow "Sicklers" that the disease did not master her. In life, if she felt it, she lived it and if she lived it, we all felt the love and the strength of her resolve.
Shakira was determined to see her dreams of becoming a humanitarian, role model, and inspiration for generations to come manifest itself. She had the soul of a warrior and the heart of an angel with a passion for people and for seeing a better tomorrow. Her warrior spirit instilled a magnitude of courage and resolve in this young soul. Shakira's two biggest passions were Beyoncé and Jamaica. So passionate was she, that she left her hospital bed, against doctors' wishes to attend the kickoff of the Formation Tour in Miami. Her love response when asked by her mom was it worth it?… "Beyoncé is Everything"! Translation… YOLO!!! Passion transcends pain.
This year, Shaks formerly established her foundation, Shak's Hope Fund, in collaboration with the Miami Foundation to elevate awareness, education and provide services and quality of life for other impacted families in the United States, the Caribbean and around the world.
"The things that I want to accomplish may be 'cliche' for a beauty queen, but those are the things that are genuinely in my heart. World peace, a solution to starvation, hugging trees and all that jazz. It's all a part of the plan." – Shakira Martin…Lover of life, hoping to impact the future.